We love pistachios, so we thought we would share a few recipes that use this delicious and healthy snack. We decided to make them a little sweeter by adding chocolate and some butter to the recipes.
First up we have our easy to make Pistachio Cranberry Bark. This recipe only has 4 ingredients, and they can all be found at the George J. Howe Company.

Four Step Chocolate Pistachio Bark

Ingredients
2 cups of Howe's Westchester chocolate caps (you can also use a semi-sweet chocolate)
6oz white chocolate melting chocolate
1 cup salted shelled pistachios - toasted
3/4 cup of dried cranberries
Directions
1. In a candy melting pot or microwave safe dish, melt the Westchester chocolate caps and stir until smooth.
2. Stir in half of the cranberries and 3/4 cup of the shelled pistachios.
3. Spread the mix on to wax paper lined baking sheet and drizzle with the melted white chocolate. You can use a knife
to swirl the white chocolate in.
4. Sprinkle the rest of the pistachios and cranberries on top and refrigerate until it is firm.
You can cut or break the bark when it is done!

Next check out this recipe for pistachio cookies that will pair perfectly with your favorite cup of coffee or tea.

Pistachio Crumb Cookies

Ingredients
1 Cup salted, shelled pistachios
1 Cup unsalted butter (room temperature)
3/4 Cup confectioners sugar
1 TBSP almond extract
1 TBSP vanilla extract
2 1/4 Cup all purpose flour
2 drops green food coloring (optional, but we used)
Directions
1. Chop the pistachios into small crumbs - a food processor works best.
2. Beat the butter with a mixer until it is smooth - a stand mixer works best
3. Add the confectioners sugar, almond extract and vanilla extract until well mixed.
4. Add the flour, pistachios and food coloring. Keep mixing until the dough comes together.
5. Chill the dough for 1/2-1 hour in the fridge. Make sure it is tightly covered while chilling.
6. Line baking sheet with parchment paper. Roll dough into balls (approx size of TBSP) and place on baking sheet about about 2 inches apart. You will most likely need 2 baking sheets. Dough may crumble but it should come together as you roll.
7. Bake in oven at 350 degrees for about 13-15 minutes. Let cool for 5 minutes then transfer to cooling rack.
Cookie Icing - optional but HIGHLY recommended
4 TBSP unsalted
1 Cup confectioners sugar
2 TBSP heavy cream
1/4 tsp vanilla extract
Cut the 4 tablespoons of butter into pieces and melt in a light colored skillet on medium heat and stir occasionally. The butter will begin to bubble and then brown. Once it starts to turn brown remove from heat and let cool for 4-5 minutes. Whisk in the confectioners sugar, heavy cream and vanilla extract.
Dip the top of the cookies in icing, or drizzle and enjoy!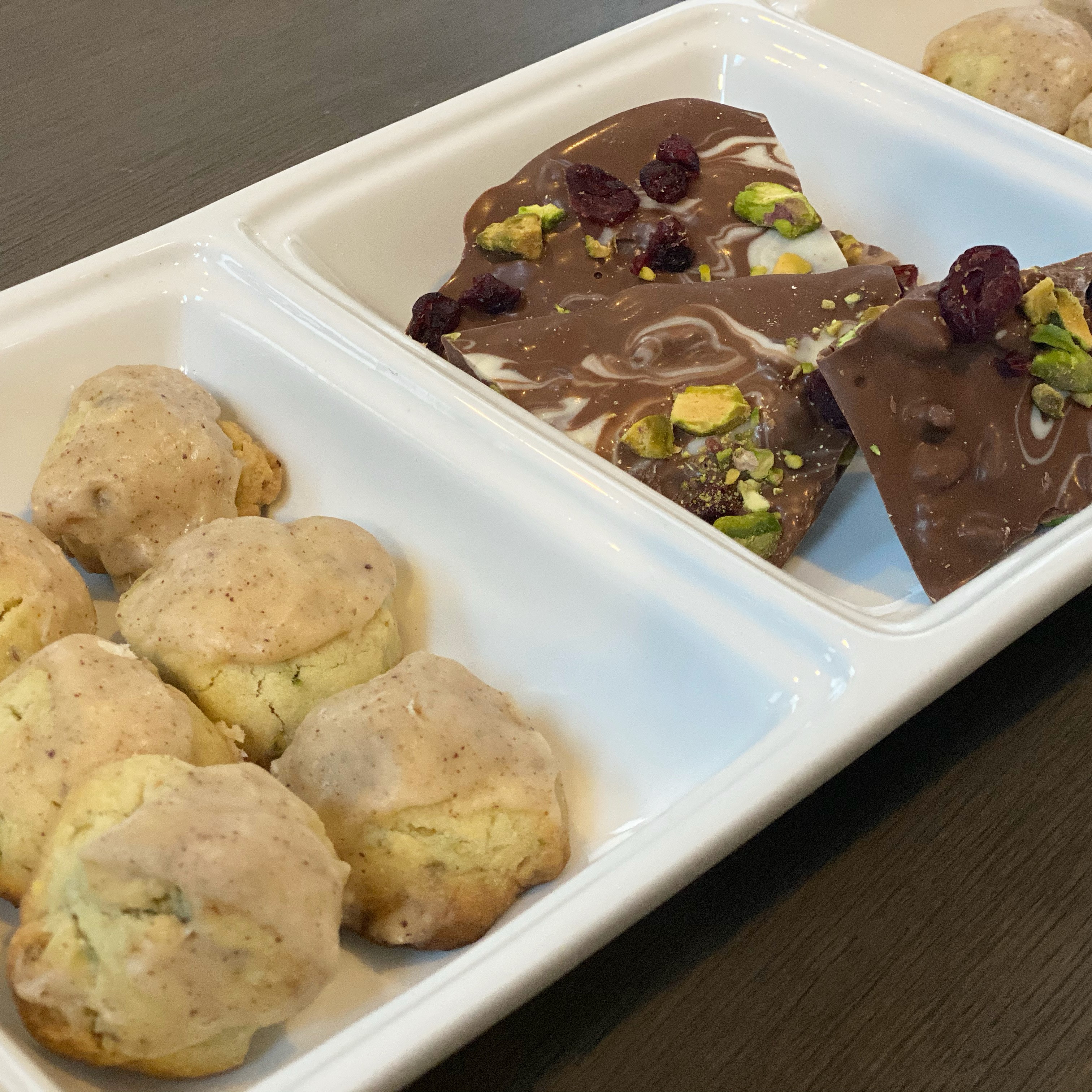 Recent Posts
Happy National Pecan Day!To celebrate National Pecan Day, we decided to show you a few simple treats …

Peanut butter and jelly sandwiches, peanut butter toast, peanut butter cookies, and peanut butter pi …

We love pistachios, so we thought we would share a few recipes that use this delicious and healthy …